Adjustable knee brace instruction
Product name: Adjustable knee brace instruction Model: KDZJ-XB-001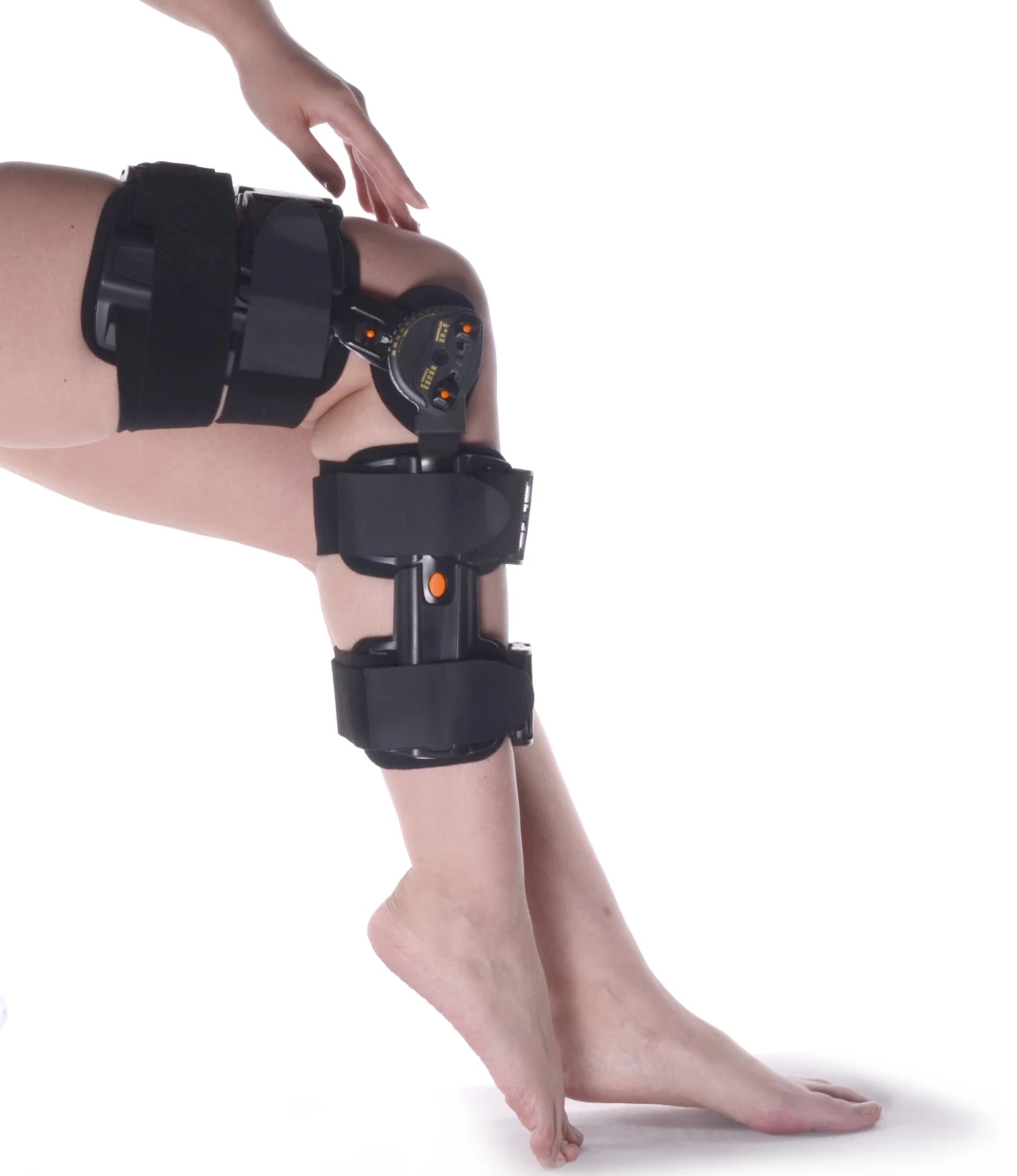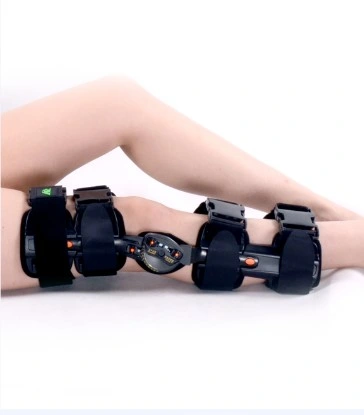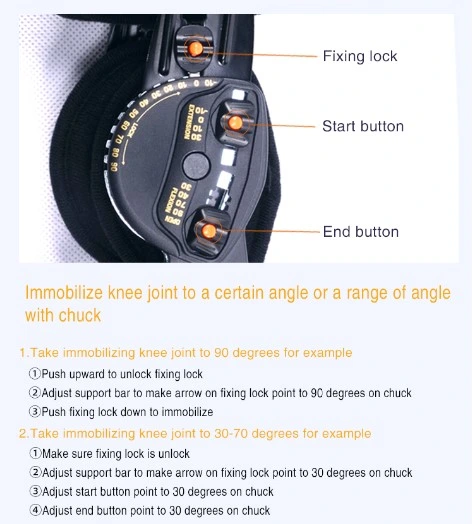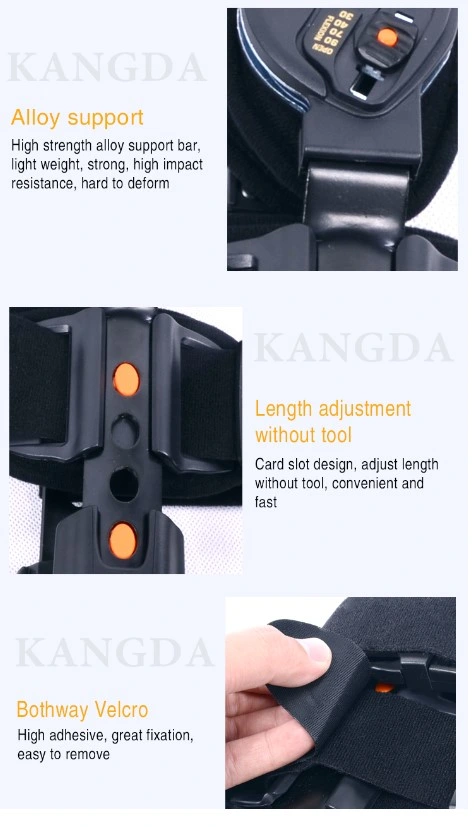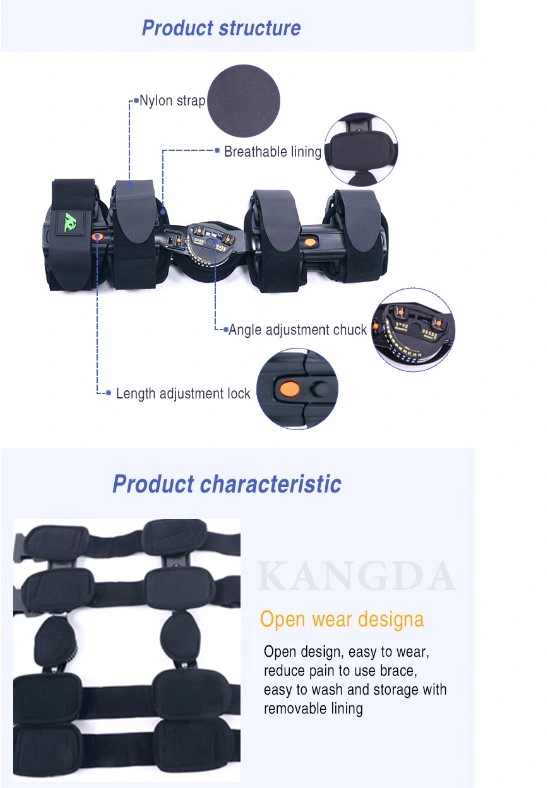 Product formation: It composed of aluminum alloy joint branch, plastic sheet, textile lining etc.
Functions:
1. Spring loaded flexion/extension stops for easy range of motion control from 0°~120°.
2. Overall length can be adjusted.
Scope of application:
1. Conservative treatment and external prevention contracture for both sides of collateral knee ligament injury
2. Post-operative immobilization for both sides of severe collateral knee ligament injury, tear, rupture, and sports protection in phase of rehabilitation
3. Light knee hyperextension by flabby and degenerated collateral knee ligament or its soft tissue injuries.
Usage method:
1. Use it under the instruction of doctors.
2. Choose proper brace in accordance with clinical applicability
3. Compare the length of alloy branch with the injured leg, use the length-control screw to adjust the length of alloy branch if not match, then fix.
4. Put on the foam, adjust the angle of stretch and flexion according to the requirement of doctor with immobilization control button and angel control fixation button.
5. Press down the snap joint, fasten the fixing band in order, match the axis of the support branch with the centre of knee joint, check whether the branch on both side is parallel with ground.
Cautions:
1. Please purchase and use under the guidance of doctors.
2. Keep the joint flexible and clean, avoid drop-in of foreign matter and fragment.
3. Wet environment may lead to corrosion, use dry cloth to wipe the metal parts if water inflows.
4. Soft fabric washed with damp cloth and soft detergent, avoid acidic corrosive substances.
5. The metal parts should avoid prolonged close to the flame, or directly affected by sunlight, prevent overheating of the metal or plastic deformation and soften.
Storage condition: The storage temperature should be in 15-30 ºC, humidity below 60%, and storage in a cool place.
Duration: 3 years.
Function: Classic drop pin hinge Spring loaded flexion/extention stops for easy range of motion control from 0-120. Pin stop adjustable with degree increment of 10 Comfortable soft foam design to avoid muscular oppression Overall length can be adjusted Indication: Conservative treatment and prevention contracture for both sides of collateral knee ligament injury Post-operative immobilization for both sides of severe collateral knee ligament injury, tear, rupture, and sports protection in phase of rehabilitation Light knee hyperextension by flabby and degenerated collateral knee ligament or its soft tissue injuries Knee instability in frontal plane Control knee functional position